2 Corinthians 3:17-18
Now the Lord is the Spirit, and where the Spirit of the Lord is, there is freedom. And we all, who with unveiled faces contemplate the Lord's glory, are being transformed into his image with ever-increasing glory, which comes from the Lord, who is the Spirit.
Grace Formation Tables
We need spiritual formation and personal transformation, not just more information, to be the followers of Jesus God wants us to be. We believe this formation and transformation happens best as we are led by the Spirit to know, love, and serve God with others.
Because of this, we gather together regularly - around tables - to equip and encourage the formation and transformation we all need to live on mission as followers of Jesus. Join us on Sunday nights for biblical teaching and small group discussions that will focus on spiritual growth and personal application.
Current Class Info
The Love of God class on Sunday nights will not be meeting for now. Links to the teaching videos will be sent to participants.
The Love of God
Sundays @ 6 PM
March 8 - April 5
Join us on Sunday evenings for a five-week study on the transforming love of God. Everyone is invited. Workbooks will be available at the first class.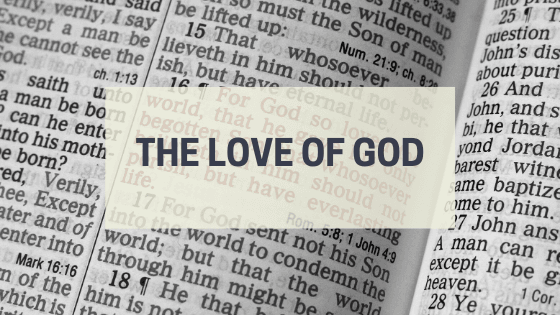 If you desire to go deeper in your relationship with God or just want to explore the Christian faith, The Love of God is a great next step.
The Love of God is a five-week discipleship process that will help you understand God's love like never before and is designed to get God's word into you and you into God's word. Though many people want to read the Bible more, pray more, and be serious about the things of God, it will not happen without making significant lifestyle adjustments. It takes discipline, and that's where The Love of God comes in.
The Love of God is designed to help you put God first in every area of your life. It helps guide you into the Christian life you have heard and dreamed about, but may not know how to live. Through faith-building teachings and a clear scriptural path toward growth and freedom, The Love of God will help you unlock the abundant life Jesus promised you. You will gain spiritual wisdom and insight as you spend time in God's word and limit unnecessary habits in order to hear God more clearly. The Love of God is much more than a class, it's an encounter with God that will leave you changed forever.